Last week it was confirmed that the organization WIN (Women In Need) is planning to open a 300-bed homeless shelter for women and children on the shoreline of polluted Coney Island Creek. The chosen site is a factory building in Coney Island that once housed the Brooklyn Yarn and Dye Company, a business that for several decades poured massive amounts of toxic aniline and hexavalent chromium dyes into the notoriously noxious waterway. What's particularly disturbing is that during the yearlong planning process no official notification was given to local residents, elected officials, or Community Board 13. Details of the project are still not forthcoming.
The Brooklyn Yarn and Dye factory closed down years ago and the building was last occupied by a community health center that was destroyed in 2012 by Superstorm Sandy. Past usage of this structure has been commercial use only and the idea that the site is now safe for a year-round residential facility that houses vulnerable women and children is debatable. Sandy's floodwaters radically changed the landscape surrounding this site. If new construction is being proposed, has the site been tested for toxicity? We have no idea because the project has been planned in secret.
This location on Coney Island Creek at West 21st Street, directly adjacent to the homeless shelter, has also been proposed by the City as the site of a massive flood control barrier that is now under study by the Army Corps of Engineers. That means that the shelter might be surrounded by a construction zone that, hopefully, will include mitigation of toxic waste from the bed of Coney Island Creek. This section of the creek was also the site of a waste transfer station in the early 1900s, a marine fueling station that closed in the 1970s, and other polluting industrial facilities. Construction at this site might disturb potentially toxic materials buried nearby and have an adverse affect on nearby structures along the creek's shoreline, including the proposed shelter and its young inhabitants.
The WIN shelter project is reminiscent of the little league baseball field that opened during the 1990s on the toxic Brooklyn Union Gas Works site on Coney Island Creek at Shell Road. It was soon discovered that the ball field was contaminated with every carcinogenic substance imaginable and the recreational facility was closed down and fenced off.
In 2006 an EPA-mandated cleanup of the gas works site cost Keyspan Energy $114 million. Has WIN done due diligence in finding out if their site is safe? We have no idea as the entire project is shrouded in secrecy. It is not the WIN organization's job to "educate the community," as the organization's spokesperson told the Brooklyn Daily on October 19th. It is the community's job to provide input and information that will prevent injury to the families that occupy the shelter. Subterfuge helps no one.
Accusations of  "nimbyism" are common when pointing out that a homeless shelter site is inadequate. That doesn't apply in this case. WIN president Christine Quinn is shutting out the local community and planning a residential facility on a waterway that has a legacy of illegal sewage discharges and industrial contamination. Aniline and hexavalent chromium are known carcinogens. For years these dyes colored the creek as they were discharged into the waterway by the Brooklyn Yarn Dye Company. Coney Island Creek needs to be clean and safe before any residential developments can proceed along its shoreline. An Environmental Impact Statement (DEIS) should be completed as soon as possible.
On Tuesday, November 1 at 6 pm, Community Board 13's Environmental Committee will hold a public meeting to discuss pollution issues affecting Coney Island Creek. Representatives from DEP and DEC are expected to attend. The meeting will be held at Liberation High School, 2865 West 19th Street, Coney Island.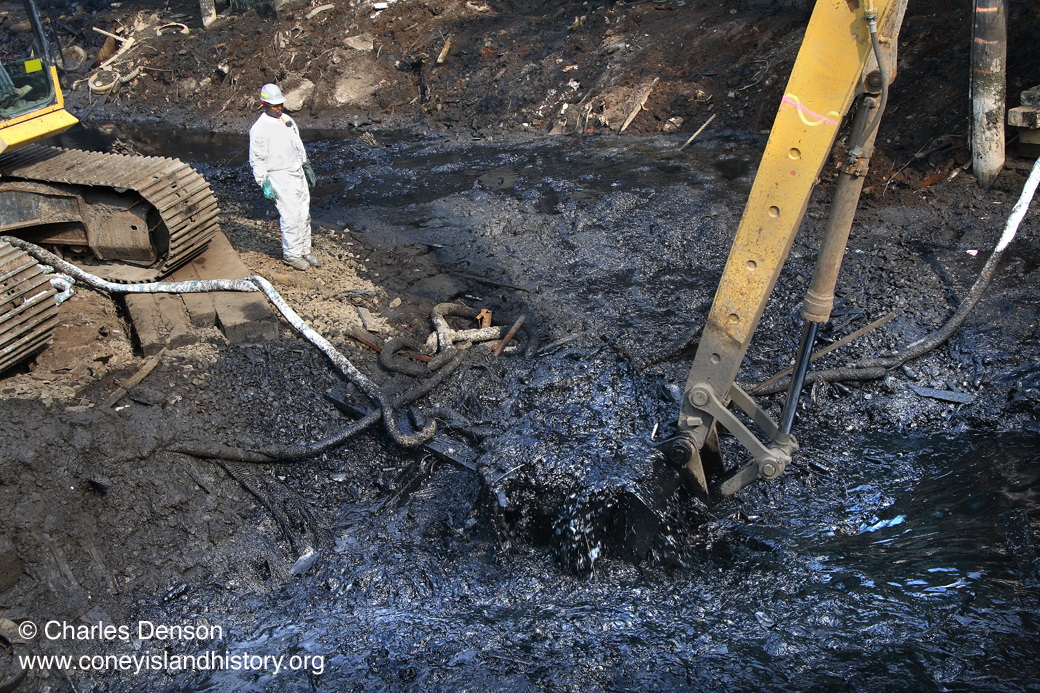 Toxic coal tar ("black mayonnaise") being removed from a small section of Coney Island Creek in 2006.