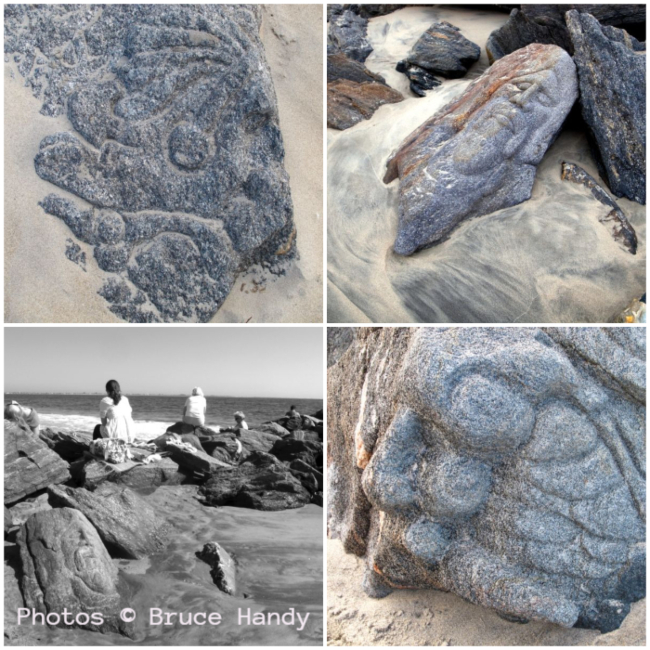 John Philip Capello is a painter and sculptor who grew up in Bensonhurst in the 1940s and '50s and moved from Brooklyn to Sag Harbor in 1989. Our newly published oral history with him is the culmination of the interviewer's twelve-year search for the mystery artist who carved faces into rocks on the shoreline at Brighton Beach.
"In 2010, I saw a photo of one of these carved faces on Twitter, but I didn't know where it was on the Coney Island peninsula," says Tricia Vita, who records oral histories for the Coney Island History Project. "So I asked my friend, photographer Bruce Handy, if he could find them. He spent the whole summer looking and at the end of the summer he actually found the rock faces in Brighton." When Vita shared the photos on her blog, some commenters remembered seeing the rocks being carved in the 1970s while others were sure the carvings were ancient. The artist remained unknown.
It wasn't until this year that Vita was able to learn the identity of the artist and record his oral history. In his interview, Capello describes carving the rocks in Brighton Beach around 1975 with his brother Luciano, who worked as a church restorer, and one or two friends. "We looked into the stones and saw what we wanted to see," he says. "A nose, an eye socket, a place to put a mouth or chin, you know, that's already there, but just take away the stone that didn't belong."
Capello says that he and his brother had studios in Brighton Beach and on Kings Highway in the 1970s, and once they started carving the rocks, it became an obsession. "We would call each other, 'Hey, you're gonna go down to Brighton. Okay, I'll meet you there,' so we packed lunches and a bottle of wine and sometimes beer."
The stone carvings have remained out of the public eye for so long because they're usually buried in the sand. The rock faces are visible only at low tide and after a storm.
In 2022, Jim McDonnell, another photographer friend of the interviewer, came across photos of Capello's sculpture from a past show at Nabi Gallery. "He has a good eye and he could see it was from the same hand," said Vita. "The gallery's website mentioned that the artist grew up in Brooklyn. That was a big clue." In the NY Times review of the artist's 1999 show at Nabi, Phyllis Braff writes: "Very traditional in feeling, John Philip Capello's figurative marble sculpture combines an archaic appearance with evidence of the image being taken from the stone."
John Philip Capello is a self-taught sculptor and painter who was mentored by his brother Luciano. "He was the only teacher I had," Capello says in his oral history. "I never took any formal classes." In this 2017 video recorded at the Parrish Art Museum, Capello gives a slide talk about his work.  The artist has exhibited at many galleries, including Summa Gallery in New York City and Romany Kramoris Gallery in Sag Harbor. He is a member of the National Society of Mural Painters, Artist Alliance of East Hampton, and Southampton Artists Association. His paintings and sculpture are represented in over 100 private collections.
"One of the things I enjoyed about being a stone carver," says Capello, "is I'm a painter, but the paintings will perish. The stone will last, so they leave a legacy."