On September 21, 1966, real estate developer Fred Trump threw a demolition party at Steeplechase Park's Pavilion of Fun, exactly two years after Coney Island's legendary amusement park had closed.  While the champagne flowed and bikinied models posed for photos, Trump invited guests to hurl bricks through the stained glass Funny Face, the symbol of Steeplechase.
Opening May 28, 2016, the Coney Island History Project's new exhibit, "The 50th Anniversary of Fred Trump's Demolition of the Steeplechase Pavilion," examines in photos, ephemera, and oral history, the importance of the pavilion and the memories of local personalities who dealt with Trump before and after the tragic demolition of a Coney Island landmark. History Project director Charles Denson interviewed many of the players involved in the loss of Steeplechase and the exhibit reveals many little known facts about Fred Trump's history in Coney Island . Here are the top ten:
1. The Albert family of Astroland Park made an offer to buy Steeplechase but Marie Tilyou turned them down. Irving Rosenthal of Palisades Park also tried unsuccessfully to buy Steeplechase. Tilyou didn't want to sell to an amusement operator and chose instead to sell to Fred Trump, who planned to build high rise apartments.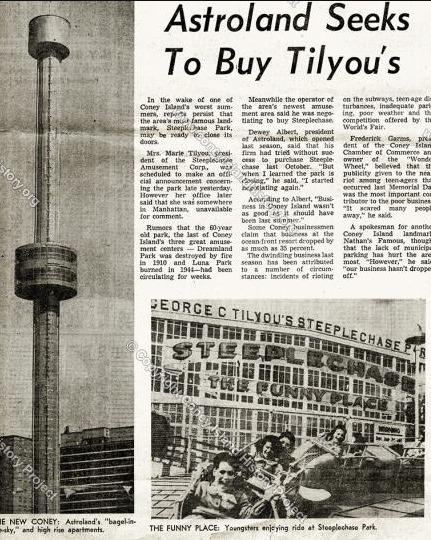 News article from Coney Island History Project Collection
2. Fred Trump's 19 year old son Donald was present with his father and Steeplechase Park owner Marie Tilyou at the signing of the sales contract for the park.
3. Fred Trump not only bought Steeplechase Park, he had also owned the old Luna Park site and the Velodrome site. He lost both in 1955 due to his blacklisting by the federal government
Vacant Luna Park site. Coney Island History Project Collection
4. Fred Trump hired the builder of Coney Island Creek's Yellow Submarine to demolish the Parachute Jump in 1966 but reneged when the $10,000 price was too high.
5. Fred Trump offered to demolish the Parachute Jump for free in 1991, even when it was a landmark and he no longer had a financial interest in it.
6. Fred Trump was largely responsible for relocating poor families from the site of Trump Village, which was built in 1964, to the dilapidated summer bungalow colonies of Coney's West End, creating a poverty pocket that led to the decline of Coney Island. He also profited by collecting fees for the relocations.
Bungalow colony in Coney's West End. Coney Island History Project Collection
7. Fred Trump was fined for illegal filling of Coney Island Creek in relation to a concrete mixing facility.
8. Fred Trump placed an unusual amusement in the Steeplechase Pavilion in the months before he demolished it, an animal husbandry exhibit that was a satellite attraction of Murray Zaret's Surf Avenue Animal Nursery.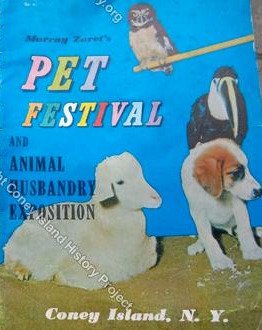 Promotional poster for Murray Zaret's Pet Festival. Coney Island History Project Collection
9. Fred Trump, who was known as a shrewd businessman, finally met his match in Coney Island when he was outsmarted by a long-time Coney Island operator and then tried to hire him.
10. In 2009, the City's Economic Development Corporation fulfilled Fred Trump's dream by rezoning the western half of the Steeplechase site, which is now the MCU parking lot, for high rise apartments.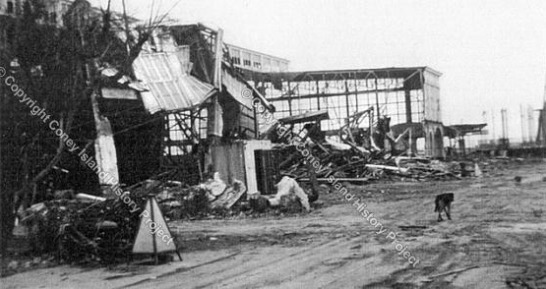 Demolished Steeplechase Pavilion. Photo by James Onorato. Coney Island History Project Collection
"The 50th Anniversary of Fred Trump's Demolition of the Steeplechase Pavilion" is on view at the Coney Island History Project's exhibition center from Memorial Day Weekend through Labor Day on Saturdays, Sundays and holidays. New hours are 1:00 PM till 7:00 PM. Admission is free of charge. We're located at 3059 West 12th Street at the entrance to Deno's Wonder Wheel Park, just a few steps off the Boardwalk.
View historic artifacts, photographs, maps, ephemera and films of Coney Island's colorful past. Among the treasures on display is Coney Island's oldest surviving artifact, the 1823 Toll House sign, which dates back to the days when the toll for a horse and rider to "the Island" was 5 cents! You're invited to take a free souvenir photo with Coney Island's only original Steeplechase horse from the legendary ride that gave Steeplechase Park its name.
The Coney Island History Project was founded in 2004 by Carol Hill Albert and Jerome Albert in honor of Dewey Albert, creator of Astroland Park. Executive director Charles Denson is a Coney Island native, a noted historian, and the author of the award-winning book Coney Island: Lost and Found.