Join us to Celebrate Coney Island's & the Cyclone's Opening Day!
Palm Sunday is the traditional season opener for Coney Island's rides and attractions. The Coney Island History Project's public exhibition center under the Cyclone roller coaster will host an Open House on Sunday, March 28th from 12-3 pm to celebrate Coney Island's and the Cyclone's opening day of the 2010 season.
You're invited to view historic artifacts, photographs, maps, ephemera and films of Coney Island's colorful past and preview selections from our 2010 exhibition season. Among the treasures on display is Coney Island's oldest existing artifact, an 1823 Toll House sign from the days when the toll for a horse and rider to "the Island" was 9 cents. Admission to the exhibition center is free of charge.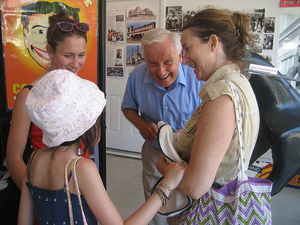 Jimmy Prince, CIHP Distinguished Historian and Retired Proprietor of Coney Island's Major Market, Talking with Visitors from Tennessee. August 1, 2009. Photo © Coney Island History Project
Please stop by on March 28th and say hello to Charles Denson, CIHP Executive Director and author of Coney Island Lost and Found; Jimmy Prince, CIHP Distinguished Historian and longtime proprietor of Coney Island's Major Market; Stan Fox, Coney Island raconteur and veteran penny arcade operator; and staffers Tricia Vita, Amanda Deutch and Jeff Wilday.
The CIHP exhibition center will open for the 2010 season on Saturday, May 29th, Memorial Day Weekend with an exciting new exhibition about archaeology and historic sites in the neighborhood. The exhibition will tie in with our audio/video walking tours, which are downloadable for free via our website's Tours page. The "West End Boardwalk Tour" will make its debut, joining the currently available "Amusement Area: Past and Present" walking tour. This season's display will feature never-before-exhibited artifacts from Steeplechase Park, Feltman's, Astroland and more. We're pleased to announce that the Dreamland Bell, which was raised from the ocean floor by Gene Ritter's dive team in September after nearly 100 years under water will be back at CIHP to ring in the summer season!
Evelyn Lillias & family with souvenir photo taken at History Project's Memory Booth. The Queens resident grew up in the Marlboro Houses in Coney Island. May 25, 2009. Photo © Coney Island History Project
Located on Surf Avenue just east of West 10th Street, the Coney Island History Project's exhibition center is open free of charge on weekends from Memorial Day through Labor Day. The centerpiece is an authentic Steeplechase horse from the legendary ride that gave Steeplechase Park its name. Visitors are invited to record a video interview and take a free souvenir photo of their visit. For additional info, contact the History Project at info@coneyislandhistory.org or 718-265-2100.