Forgotten links to Coney Island's distant past can still be found if you know where to look. Some are in plain view and others are hidden and forgotten. Here are two that can still be seen and another that recently disappeared.
Railroad Avenue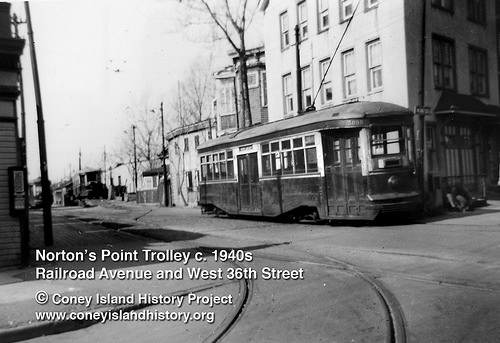 Who remembers Railroad Avenue? When I was growing up in Coney Island, the old right-of-way known as Railroad Avenue was still in existence, running from West 15th Street to West 37th Street between Surf Avenue and Mermaid Avenue. We always used the road as a shortcut. In the 1880s the Prospect Park and Coney Island Railroad ran steam trains along this route to the ferry pier at Norton's Point (Sea Gate). The trains were later replaced by a trolley line that ran there until November 1948. The route was de-mapped during urban renewal and has disappeared without a trace except for several old railroad property markers. The marker seen here sits behind a fence on the west side of West 37th Street between Surf and Mermaid Avenues.
Hudson's Head
The majestic Half Moon Hotel, built in 1927, was once the crowning glory of Coney's new Boardwalk. The building was covered with decorative art including a mosaic tile dome, enormous urns, and terra-cotta busts of explorer Henry Hudson, whose ship, the Half Moon, lent its name to this grand hotel. When the building was demolished in 1994, the facade's decorative items were carted off and sold to antique shops. All except one! Henry Hudson's stern portrait has been installed in a private park on the site of the hotel and can still be seen through a fence on West 29th Street near the Boardwalk.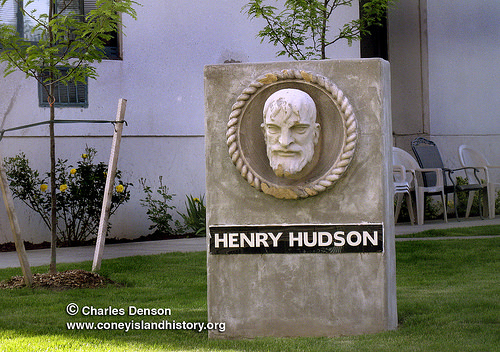 Milestone Mystery
When the last section of Calvert and Vaux's Ocean Parkway opened from Prospect Park to Coney Island in 1880, the boulevard had a series of granite milestones marking the mileage from the park. Until a few years ago this 5-mile marker was located at the corner of Neptune Avenue but disappeared during the construction of a bus shelter. The historic 150-year-old 5M stone is missing in action and no one seems to know where it is, including the Parks Department, which usually keeps track of these things. Does anyone know its fate?